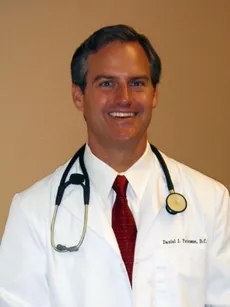 Daniel J. Paterson, DC, APC has been practicing chiropractic and integrative medicine since 1998 and is the clinical director of Premier Chiropractic Medicine. He has extensive experience in caring for spinal and other health related issues...including trauma related cases as a result of accidents and sports injuries. This accompanied with his comprehensive post doctoral education allows Dr. Paterson to treat both simple and complicated cases.
Dr. Paterson received his Bachelor of Science degree from The University of the State of New York. He graduated as a member of the Phi Chi Omega Chiropractic Honor Society with his Doctor of Chiropractic degree from New York Chiropractic College.
Dr. Paterson has attained extensive postdoctoral education in MRI spine interpretation, spinal biomechanical engineering, electrodiagnostic interpretation, accident reconstruction, triaging the injured, hospital based spine care, caring for the trauma patient and in Functional Medicine.
Dr. Paterson is one of the first Chiropractors in Colorado Springs to hold the Advanced Practice Certified Doctor of Chiropractic credential. He is Board Certified in Traditional Chinese Acupuncture as well as having certification in Biomedical Acupuncture/Dry Needling.
Dr. Paterson is a Certified Medical Examiner with the FMCSA and provides DOT/CDL medical exams, DOT/non-DOT drug and alcohol testing services. He is also a Level 1 Provider through the Colorado Division of Worker's Compensation.
Dr. Paterson is certified in Functional Endocrinology and has extensive post-doctoral education in Integrative and Functional Medicine, as well as clinical nutrition.
Dr. Paterson provides care based upon peer reviewed research when treating patients, while also drawing from his years of practice experience.
Dr. Paterson is supported by a caring, highly trained staff that is dedicated to meeting the needs of their patients and in the processing of insurance, legal or work related documentation.
Dr. Paterson is licensed to practice Chiropractic Medicine in Colorado and New Mexico.
Click HERE to view Dr. Paterson's credentials.